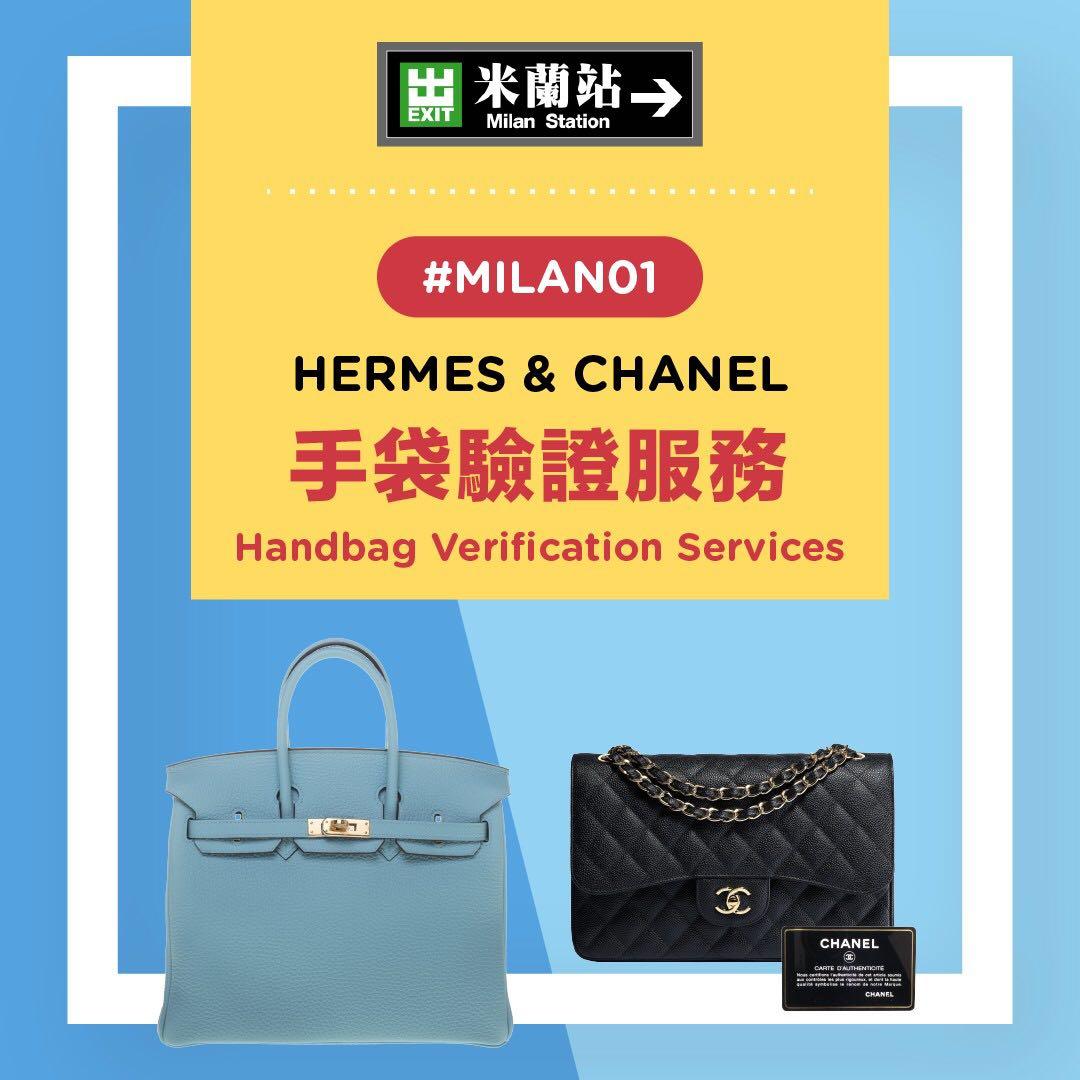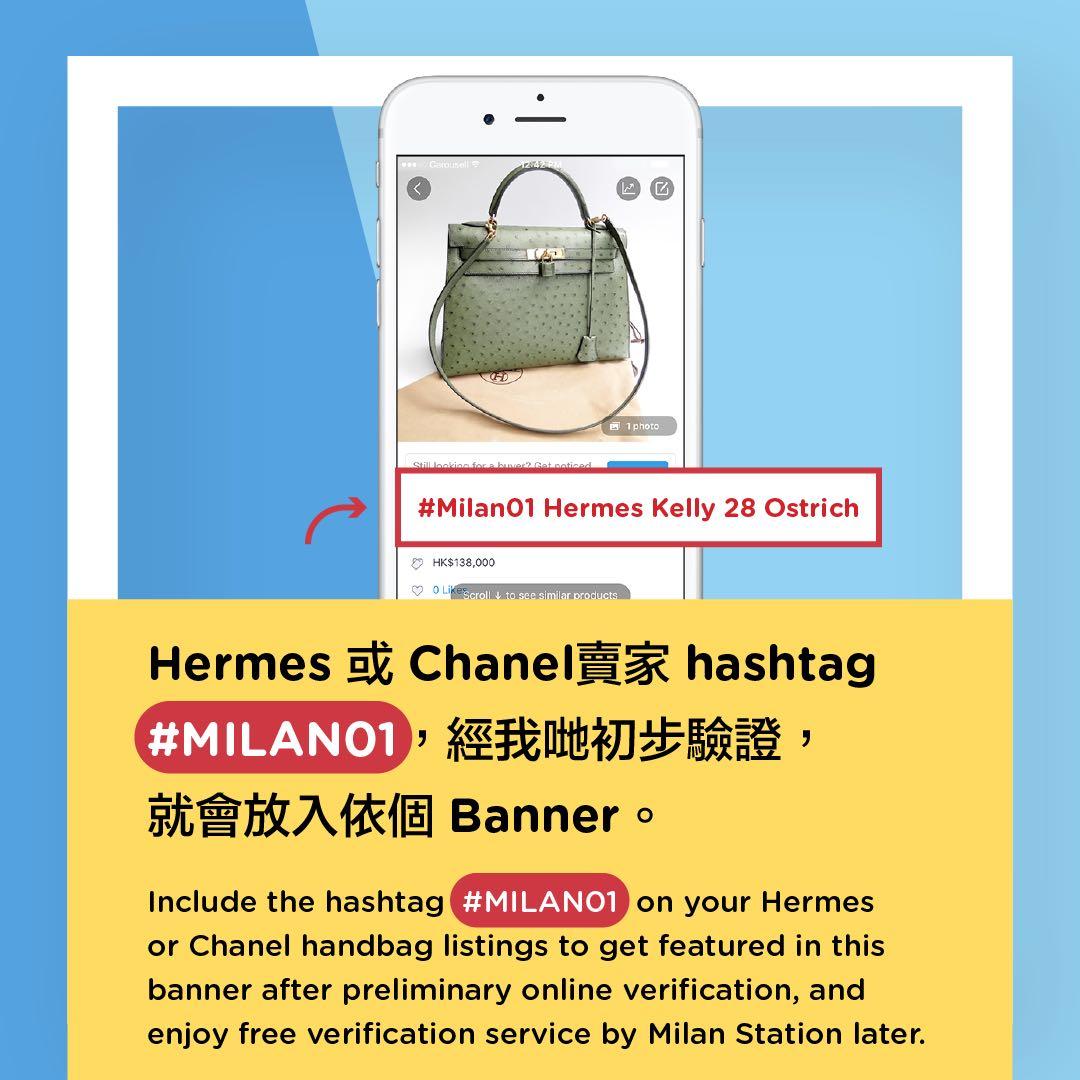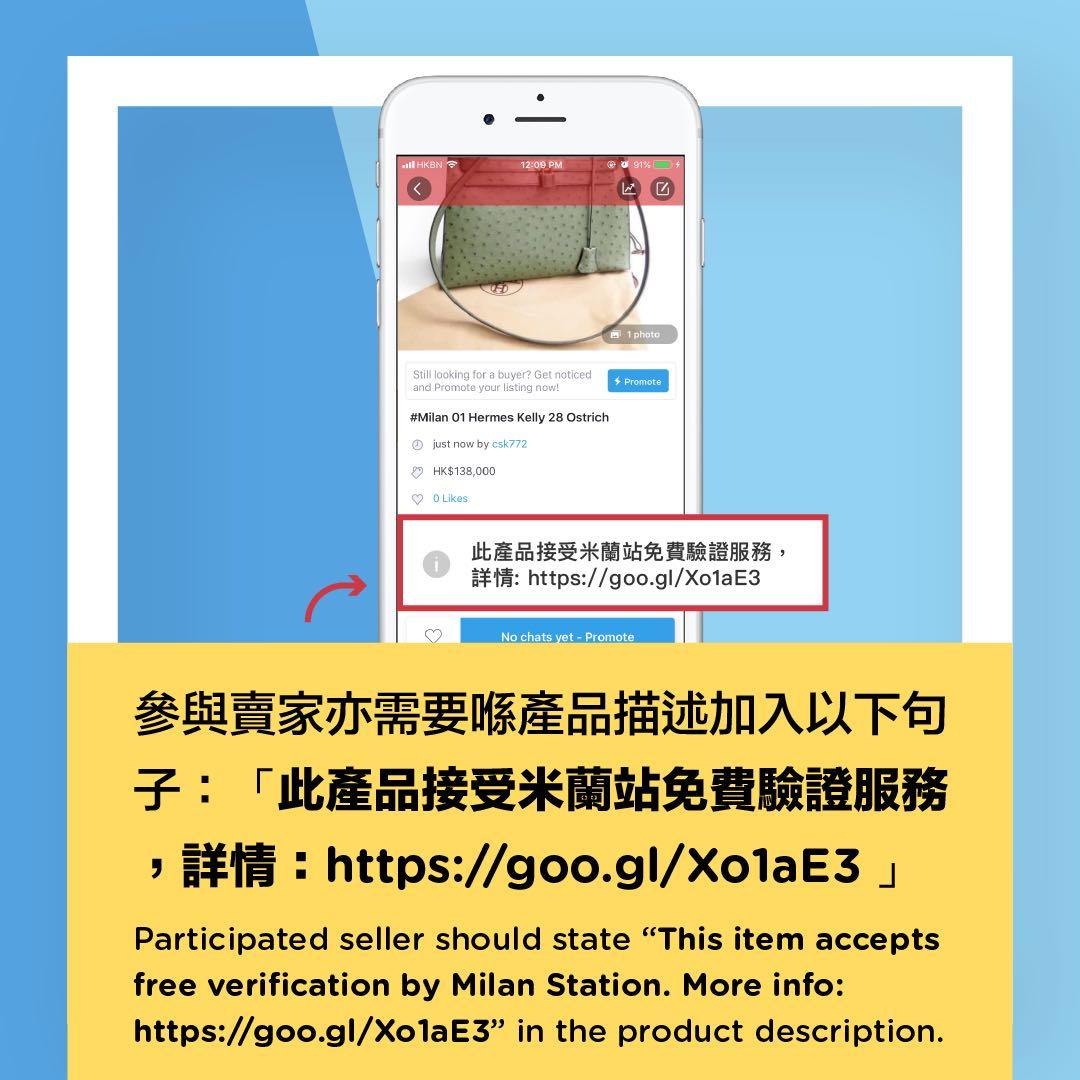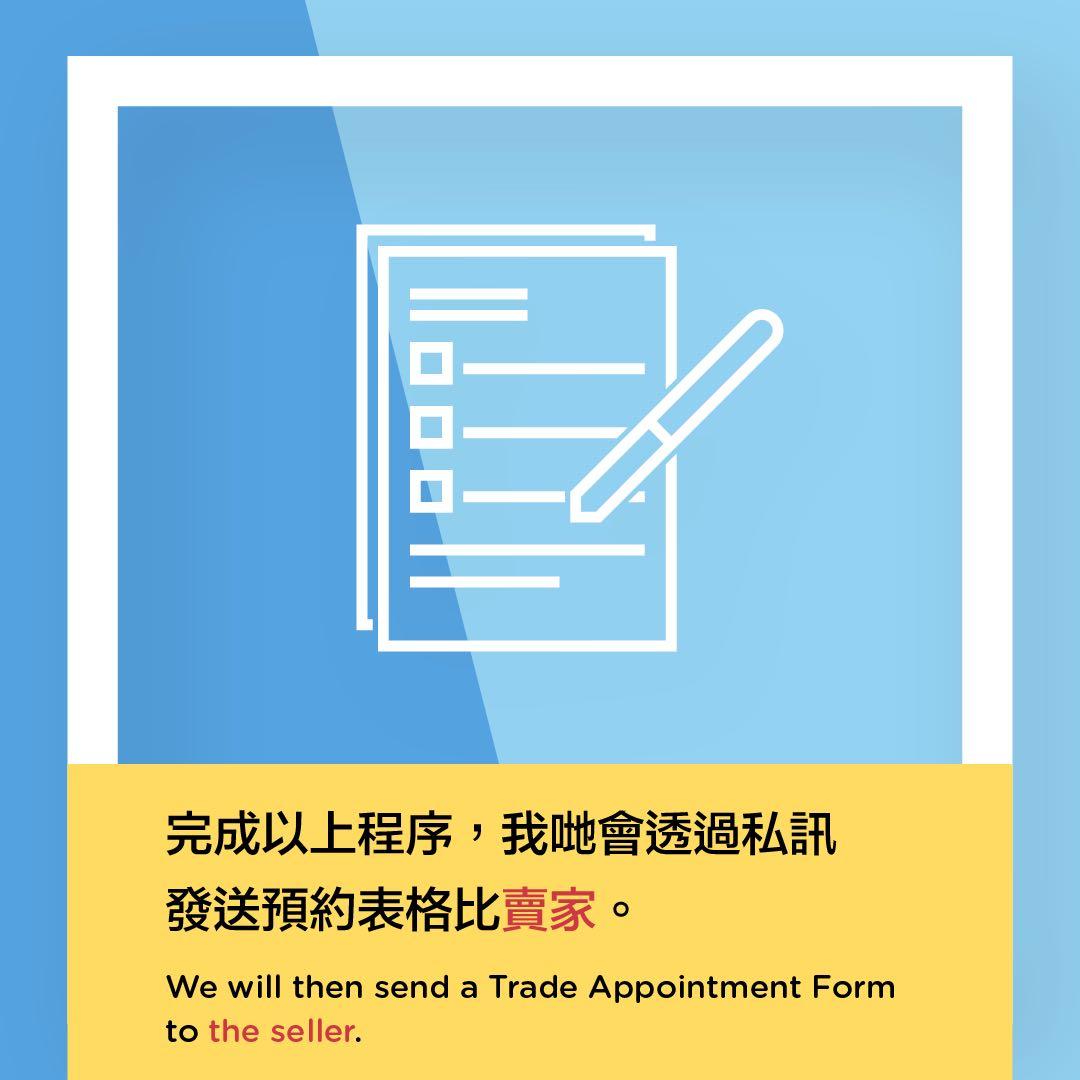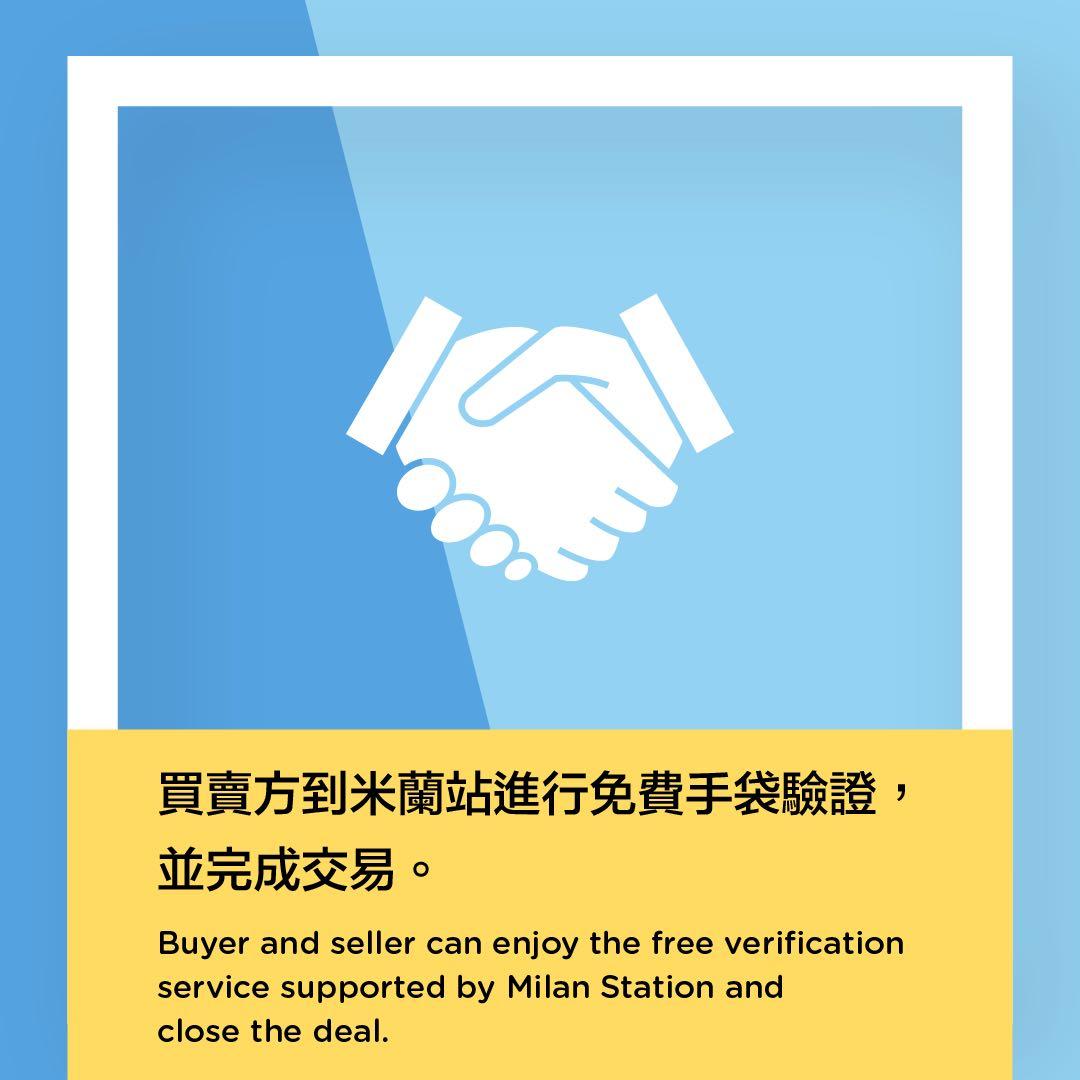 Carousell X 米蘭站 Hermes & Chanel 手袋驗證服務 #Milan01
New
Hong Kong
Description
Carousell X 米蘭站 Hermes 及 Chanel 手袋驗證服務 由11月30日起,成功喺Carousell 出售嘅Hermes 同Chanel 手袋,可以享受由米蘭站免費提供嘅手袋驗證服務,只要完成以下步驟,就可以參加,買賣名牌手袋就更加安心同有保障啦! 步驟1:賣家喺Hermes 或 Chanel 手袋嘅產品名 hashtag #MILAN01,賣家必須喺產品描述加入「此產品接受米蘭站免費驗證服務,詳情:
https://goo.gl/Xo1aE3
」。經我哋透過賣家上載嘅相片初步驗證後,合資格嘅手袋就會放入依個banner。初步驗證時間約為2個工作天。 步驟2:買家睇中產品,即可與賣家溝通,雙方達成共識(包括價錢、到米蘭站交收時間)後。買家必須出價(Make an Offer) , 賣家必須接受出價(Accept Offer),並標示為已出售(Sold)。 步驟3:我哋會喺產品標示為已出售嘅下一個工作天,透過私訊形式發送「預約表格」比賣家。 步驟4:請賣家填寫後,同買家一齊去預約表格上所揀嘅米蘭站門市完成簡單嘅登記,並進行為米蘭站職員提供嘅免費驗證服務同交收。 Carousell X Milan Station Hemers and Chanel Handbag Verification Service From now on, Milan Station is offering free verification services for Chanel and Hermes handbags sold on Carousell. Enjoy this service by following the instructions below: Step 1: To get your Hermes or Chanel handbags featured in the banner, simply hashtag #MILAN01 in the listing titles and include the following declaration sentence in the description: "This item is to be subjected to the free handbag verification service provided by Milan Station. Follow the link to learn more:
https://goo.gl/Xo1aE3"
. Please note that a preliminary online verification, which takes around 2 working days to process, will be carried out manually to select qualified items to be featured. Step 2: Once a deal is confirmed, the buyer has to make an offer and the seller has to accept the offer and mark the item(s) as sold. Step 3: A Trade Appointment Form will be sent to the seller through "chat" on the next working day when the item is marked as sold. Step 4: A reservation is successfully made once the seller has filled in and submitted the appointment form. The service will take place as scheduled. Buyer and seller are eligible to enjoy the free verification service upon the completion of the simple registration procedures in store. 相關報導 Related News: 經濟日報: Carousell夥米蘭站 供驗證名牌真偽服務 👉
https://goo.gl/9CdmRP
Marketing Interactive: Carousell HK partners with Milan Station to help user authenticate luxury handbags 👉https://goo.gl/aYpSEn
Meet the seller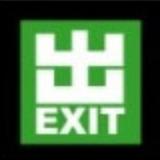 @milanstation.official
Not Responsive
Verified
No reviews for @milanstation.official
Reviews are given when a buyer or seller completes a deal. Chat with @milanstation.official to find out more!
View profile